« Back to Divan Beds & Mattresses
Dorlux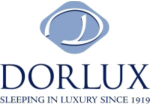 Dorlux have been making quality beds in Halifax since 1919.  Although they would not be one of the best known UK manufacturers, we have always regarded them as offering some of the best value in the bed market, combining good sound quality with sensible value for money prices.  We have been selling their beds since 1975, and have developed a very close working relationship with the company.  All of their beds carry a five year warranty.
In recent years, Dorlux have developed their advanced 'Postureline' spring system, which has three times as many springs as an ordinary mattress offering greater support and comfort.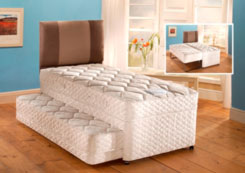 Featured here is the popular Dorlux Visitor Set.  This clever arrangement consists of a standard single bed, with a second single bed stored underneath.  When required, the second bed simply pulls out on castors, lifts up on folding metal legs, so that when in use it is the same height as the upper bed.  The second bed can be used to form either a double bed or two singles.
If you are interested in a particular Dorlux product, please contact us and we will be happy to quote you a price.